Dragon Force Challenge Round 1 2016 Report
Since the arrival in 2013 of this affordable, one design restricted class yacht, which easily fits in your car, a number of new and experienced skippers have been attracted to Dragon Force yachts.
In sponsoring the inaugural Challenge, QRYA and Paradise Radio Yacht Club are to be congratulated on proactively fostering this growing interest in RC yacht racing.
Round One of the 2016 inaugural Dragon Force Challenge was raced at Emerald Lakes (Gold Coast) on Sunday April 10th.
Twenty-six skippers from five different clubs raced Dragon Force yachts together for the first time in Queensland. All opted for A sail rigs with only six yachts fitted with original Joysway sails. Yachts were divided into two fleets with skippers sailing a total of eleven races.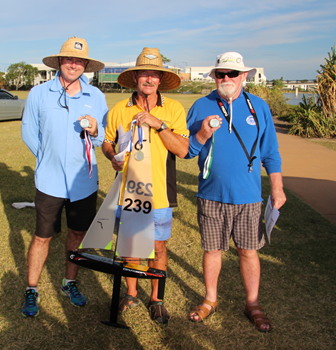 PRO Bill Clancy's dedicated PRYC team together with David & Val Black (scoring data management) ensured a professionally conducted event, tailored to educate newcomer skippers as the day progressed. According to Bill, the regatta was "competitive and held in good spirit."
The only reported distraction to skippers being the wafting, hunger inducing, favourable aroma of our bbq lunch being prepared.
The balmy day and blue sky backdrop, though picture perfect, provided a variable north easterly breeze up to about 15 km/hr which at times, particularly in the morning, tested and frustrated most skippers. A particular location on the course provided most of the "spectator entertainment".
Two skippers earned David Black's empathy and "Its Moments like these you need Minties" lollies rewards for recording the most changes between A and B fleet.
Our medallion winning top three place getters, from left to right in the image: In 2nd Place Bruce McLaren (Springfield Lakes Maritime Modellers), in 1st Place Laurie Hinchcliffe (Koonawarra Bay SC NSW) - and 3rd Place Roger Taylor ( Paradise Radio Yacht Club).
As for the rest of us: A magic day! Round Two - can't wait!!
View two race videos courtesy of a PRYC club member.