PRYC Ten Rater (10R)
Class Information
The 10R division fleet sails every Saturday at Emerald Lakes on a course separate to the IOMs. Racing commences at 10.00 am and we sail a minimum of 16 recorded races (weather permitting), completing at around 3pm. Thereafter social sailing takes place on demand, followed by informal refreshments, on demand.
The up to 14 strong fleet of PRYC members are often joined by visitors from other clubs and by prospective sailors, with the accent always being on a fair, fun - filled but competitive day.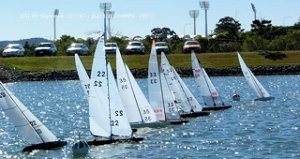 Several members have second boats available for loan/experience trial at our race days by visitors and prospective members – please phone 55984349 (Adrian) or 02 66723456 (Ross) to make arrangements in advance of any Saturday.
Club Handicap days are held on the third Saturday of each month, with the balance being Club Championship Scratch days with all races counting towards the respective annual trophies. Practice sail days are held every Wednesday at Emerald Lakes.
Currently the fleet includes a variety of designs plus marbleheads.
Both new and experienced guest sailors are always welcomed and accommodated to ensure we all enjoy the day. Irrespective of levels of competence, sailors' enthusiasm, latent ability and the intention to enjoy the day are what count at our race meetings.
IT'S A WHOLE LOT BETTER THAN GOLF!
Before purchasing a yacht and or applying for club membership, please contact the class FLeet Captain.
Skippers considering the purchase of a second-hand yacht should ensure it has a valid measurement certificate.
PRYC Ten Rater Fleet Captain: TBA