PRYC International One Metre
Thursday Racing Information
Every Thursday, IOM skippers take to the water with a friendly competitive attitude for handicap racing. Generally, we have between 4 and 10 boats go through the start line. Racing rules are still enforced; however, the general attitude is a little more relaxed than on Saturdays. Sailing starts at 11.00 AM each Thursday (set up from 10.00 AM) and finishes around 3.00 PM. We generally have a break for lunch after 3 or 4 races and complete 12 races by the end of the afternoon.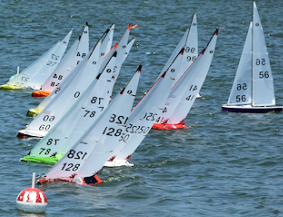 All comers are welcome. Because generally someone will lend you their boat to try out, Thursday on the pond is a great opportunity before you take the next step of purchasing a yacht. Competitors from all Clubs are always made to feel welcome, so come and try the most competitive radio sport available.
PRYC IOM Thursday Fleet Captain:
Mike Austin Phone 0427837979

Before purchasing a yacht and or applying for club membership, please contact the class Fleet Captain.
Skippers considering the purchase of a second-hand IOM yacht should ensure it has a valid measurement certificate.