The Queensland State IOM Championship for 2022
Hosted by the Paradise Radio Yacht Club
The Paradise Radio Yacht Club hosted this year's IOM Queensland State championship 2-day Regatta at Emerald Lakes over both Saturday the 12 th and Sunday the 13 th of November, the day was kicked off with the official opening of the three new launching Pontoons / Jetties built by a local contractor for the Gold Council City Council, the local Councillor Bob La Castra Cut the Ribbon after a short speech addressed to all of the IOM skippers and club race management team that were present. These new facilities, recently completed were used for the first time in hosting this event.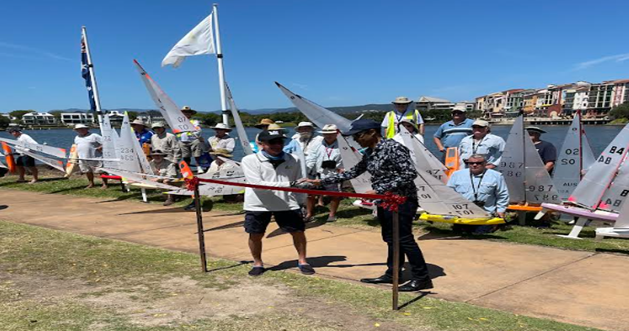 Councillor Bob La Castra officially opens the new Boat Launching Pontoons built for the PRYC
Some 32 entries were received for this prestige's event and 28 Skippers started the 1 st day, split into two Fleets A & B Heats that were sailed over a windward lee ward course of 2 laps in Area 3 at the lake in a light Northeast breeze of 3 to 5 knots with some gusts of 8 to 9 knots started the day.
There were a few areas on the course where flat patches (no wind) occurred especially toward the bottom Gate making skippers decide early which side of the bottom gate they would take to get the best approach to the finish line.
However, as Lunch time approached the breezed went further right, just about due east which PRO Bill Clancy called a break in racing while the course was moved further East so a true windward leeward course could be set. Once racing resumed 3 laps of the course including finishing at the top marks were required to meet the race time requirement. The East-to-East North East wind increased to an average of 8 to 10 knots with some gusts as high as 14 to 18 knots, However the fleet stayed with A rigs a credit to the experience of the skippers.
Each of the Fleets managed to complete some 12 races each with top places changing regularly in each fleet, which clearly confirms the large number of highly skilled skippers who sail IOMs the progressive overall results for the day are shown below with Lindsay Walker from NSW sail No 02 in 1 st place with 14 points, followed by Greg Torpy from Eagleby Club sail No 126 just 1 point behind, and in 3 rd place Aaron Farrar from Gladstone Club sail No 34 on 21 points.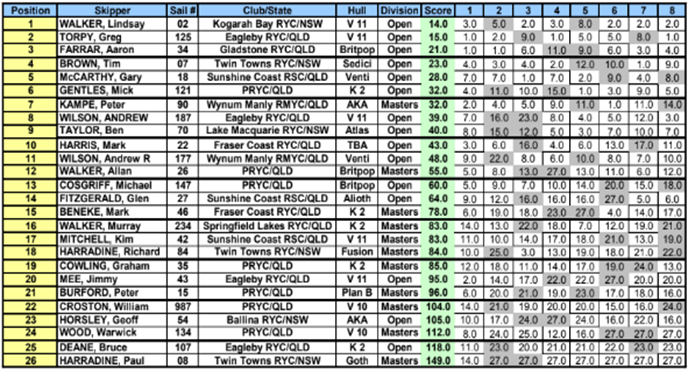 Saturday the 12th of November the first days overall placing results of this regatta
Day Two: Sunday the 13th dawned another clear bright sunny day with a stead North to North East breeze of 5 to 8 knots with a few gusts of 12 to 15 knots and as the day progressed the wind slowly increased to 16 to 20 knots necessitating a change down to B rigs for the majority of skippers.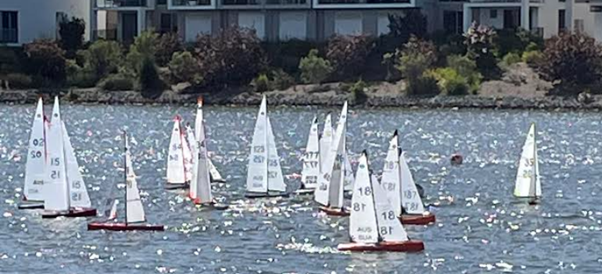 Gusty wind conditions coupled with rougher water after the lunch break made for exciting racing
Area three where the IOMs normally sail at Emerald Lakes was the venue for the second days racing allowing easy viewing of the windward leeward course of 2 laps and again the Fleet of 26 boats were split into A & B heats and they managed to sail another 14 heat races each before days end. It was pleasing to see 6 skippers had entered from inter state and the balance for Queensland Clubs, Gladstone, Sunshine Coast, Fraser Coast Eagleby Springfield Lakes as well as from the Host club PRYC, making this a true State National event.
Congratulations to our overall winners in 1 st place Greg Torpy sail No 125 on 37 points from the Eagleby Club and in Second Place overall was Lindsay Walker who was leading after day one, sail No 02 with 48 points from the Kogarah Bay Club in NSW and third overall was Aaron Farrar sail No 34 who held his 3 rd place position from day 1 with 51 points from the Gladstone Club.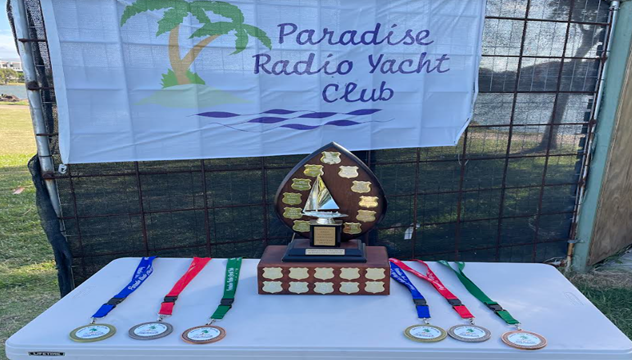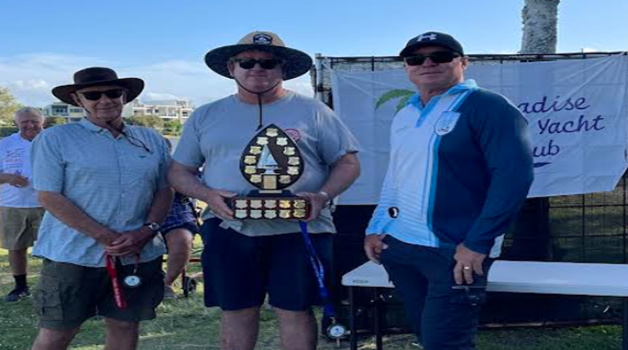 Our IOM State Championship winners from the left Lindsay Walker 2nd, Greg Torpy 1st with the state Championship IOM trophy and Aaron Farrar in 3rd Place. Well done guys.
Concurrently the Masters (70 years and over competitors) raced for the championship awards and they were in 1st place over all Peter Kampe Sail No 90 with 82 points from the Wynnum Manly Club, in 2nd Place Mark Beneke Sail No 46 with 112 points from the Fraser Coast Club and in 3rd place Graham Cowling sail No 35 with 187 points from the host club PRYC, again well-done guys great to see older sailors competing in major championships.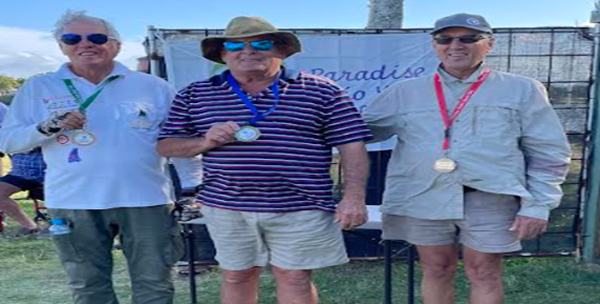 3rd place Graham Cowling, 1st Place Peter Kampe & in 2nd Place Mark Beneke
This was an excellent regatta sailed in a great spirit of competitiveness and friendship between all competitors a great credit to all skippers. The Paradise Club as Hosts did a wonderful job running this championship Regatta under the direction of PRO Bill Clancy and his assistant Adrian Banwell RO.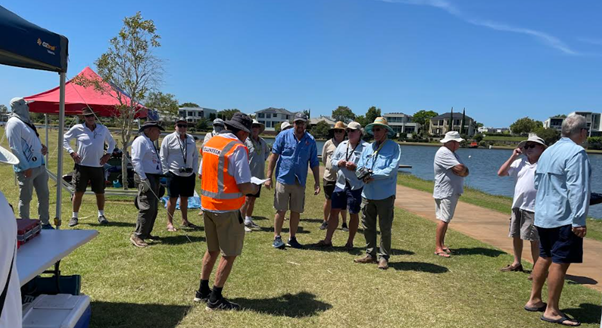 Bill Clancy the PRO attention to detail and knowledge of the sailing rules coupled with the correct procedures makes for successful major Regattas
The Clubs volunteers that included Rex Scott Commodore and John Musgrave undertook laying the marks a job well done in the hot conditions and Anne Walker and Julian Obrien who did the scoring and the associated result sheet paperwork a big job especially when racing is split into 2 fleets. To all of the other Club members who gave of their time to come and assist is greatly appreciated and was acknowledge by all of the event competitors. Well done to all.
Ron Brown
PRYC
Below are the final overall confirmed results for this regatta.